---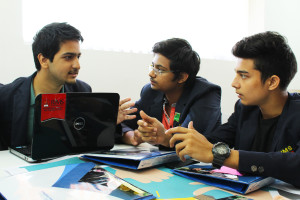 The eyes are useless when the mind is blind.
A school is where formative learning takes place, and where students spend maximum amount of time. A young child learns his first lessons mostly at school, where often the teacher differentiates right from wrong and good from bad.
John Dewey, the great American pragmatic philosopher states that open mindedness is one of the fundamental aims of education, always elusive but eminently worth pursing. For Dewey it is the child like attitude of wonder and interest in new ideas. While Bertrand Russell, a British philosopher and logicianfeels that open-mindedness is the virtue that prevents habits and desires from making us unable or unwilling to entertain the idea.
As education providers it is important for us to understand how a school can cultivate an open-minded environment where the right thought process is being provided to its students.
So, you might be wondering, what does being 'open-minded' consist of?
I would say it means being receptive while being willing to consider or receive new ideas and suggestions. This sort of culture exudes optimism and an environment where more interesting, unique ideas are generated rather than prejudices being formed.
RIMS where we follow the Cambridge Curriculum, requires us to encourage learners to have their own creative routes percolating into deep, analytical thinking. Being open minded is a valuable outcome of a critical thinker, expands intellectual capability and helps problem solving skills. In an environment where the student is given the freedom to express,it enhances thinking in the best way possible.
It is an environment where the mind can evolve as it is guided, not dictated. And yes, the students are encouraged to get out of their comfort zone every now and then.
We at RIMS provide ample opportunities for our learners to be open minded. However, we do understand the down sides to providing this liberal space. We recognize the line between having your own opinions and thoughts, and being disrespectful about it.
For the young Indian student it is extremely crucial to understand globalization and international mindedness. Unfortunately sometimes, these terms are misinterpreted by society, altering the way we might understand this.
Open is a word with a positive connotation, in most languages. I do strongly believe we should not abuse the power of a liberal space. It is required to have a balance between close-minded and open-minded.
Find that balance, and try to be the best version of yourself. Good luck!
Reshma Hawa – CEO
RIMS International Schchool and Junior College
INDIA
How important is it for schools to inculcate open mindedness in the school community. – Ms. Reshma Hawa