---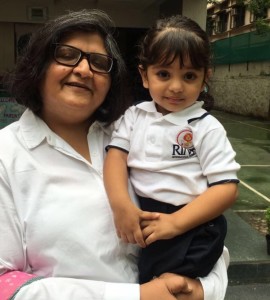 Vying for the synchronisation chord – somewhere between chaos and connect !
We don't realize the rationale behind this balance because there isn't any. It simply exists !
These words hold true especially with a job such as mine which is in fact an embodiment of this quote.
" The balance between the rational thinking mind and the heart " – contrary and chaotic as it may appear, the semblance after, makes it absolutely worthwhile.
A lot of what I speak is a result of what my heart tells me, and sometimes, thinking in terms of love and not merely statistics does get the better of me. Being in the education industry for more than a decade, I've come across different schools, environments and ideologies, but the one factor that's been constant has been the gratifying experiences from the  heartfelt decisions.
As you'd expect, there have been situations when thinking merely in terms of logic may have been the best bet. Behind every apprehensive or agitated parent, there is a child who wants to speak up or a child who feels a certain way but cannot express it. That's the cue. We cannot be wayward about it and let it pass. If you've sensed it – you've felt it and so, it needs to be addressed !
Being in a school environment directly correlates with dealing with children and with children, there's only one principle that guides best – patience –  be it from a teacher or even a member of the service staff. It serves the similar purpose as that of a secret, magical ingredient to a hit recipe.
There are some things that "need " to be done and some that "can" be done – the "can" do part – that's the humane angle ! The reward would be instantaneous. A quick exchange of glance, a curvy smile, a certain glint in the eye, a wide beam or a slight touch.
Most of the times it can go unnoticed. Stop. Tarry a little.
Through everything, let your heart guide you – It has never failed me !
'Life is a balancing act' – Ms. Vandana Agarwal