---
The festival of colours is here. Along with fond memories of Gulal, rain dancing, pichkaris and bhang, if you have repeated nightmares of skin and eye allergies or other serious problems due to the colours, this article's for you.
Why you need to avoid synthetic colours
Recent studies have found safety issues with all three forms in which the Holi colors are produced: pastes, dry colours and water colours. The various ingredients found in synthetic colours like lead oxide (black), mercury sulphide (red), aluminium bromide (silver), copper sulphate (green), Prussian blue have been known to cause various health problems ranging from dermatitis (skin becoming red and blotchy), eye allergies, skin problems and even temporary blindness.
What kind of colours should you use?
Natural is best! Make the colours at home, like they used to in the good old days. Mix the following natural colour producing ingredients by making a paste and mixing with besan or gramflour:
henna, palak (green)
turmeric, marigold flowers (yellow)
red hibiscus flowers, tomatoes, beetroot,kumkum (red)
tea leaves (brown)
You can also buy organic/herbal colours to play safe this Holi.
Tips to protect your hair and skin from synthetic colours:
Hair: After playing Holi, you might have noticed that your hair becomes very dry, frizzy and brittle. To avoid this,
Massage your hair well from scalp to hair tips with coconut, olive or castor oil. This oil gives your hair a protective covering and shields it from harmful chemicals, dust and dirt.  This will help the colours come off easily later.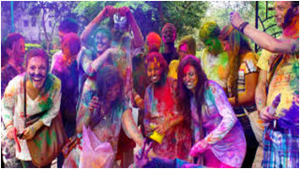 Try and cover your hair with a bandana or cap to decrease contact with colours.
After the celebrations, rinse hair with plain water to rid it of dry colours and other particles. Apply a mild shampoo followed by a good conditioner.
You can also apply a hair pack made of fenugreek seeds,amla powder, boiled shikakai powder and water.
Another homemade recipe that works is a mixture of henna powder, four teaspoons of lemon juice and curd. Apply on hair and wash after an hour.
Skin:
Wear clothes that cover a lot of your skin.
Cover the skin on your face, arms, legs etc with copious amounts of olive oil, coconut oil, almond oil or mustard oil.
Use a waterproof sunscreen (SPF 30 and above).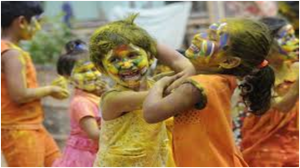 Cover your lips with a thick coat of Vaseline or lip balm.
Protect your nails from the colours by using transparent nail polish. If you have long nails, you can use it on the underside of the nails as well (remove this after the celebrations).
Remember not to use harsh soaps to get rid of colours from your skin.
You can use simple, home remedies like:
Mix one spoon ofmasoor dal, one spoon of flour, 1 spoon of rose water and a pinch of turmeric.  Apply the pack on your skin and let it dry for 20 minutes. Scrub off initially with and then wash with water.
Mix a paste of soya bean flour or besan with milk. Add some sea salt, glycerine and a few drops of aroma oil. Use a moisturizing soap to wash off the colours. Use a cream cleanser or baby oil to massage off the remaining colour.
Wash your face with warm water and then with the help of cotton apply aloe vera and lemon.  This solution helps in getting rid of dry colours.
Never rigorously rub your face while trying to get rid of colours. This will make your skin itchy and dry. Instead dab some coconut oil and then try to remove the colours.
Other potential dangers of Holi:
If you are a known asthmatic or suffer from severe dust allergy, it is advisable not to venture out to play Holi with colours, especially the dry variety.
If you wear contact lenses, do remove them before going out to play holi. If someone is spraying coloured water on your face, close your eyes. Bhang, the official drink for Holi, when consumed in large quantities can lead to effects like increased blood pressure and heart rate, psychosis. Never consume it on an empty stomach and do not mix it with alcohol.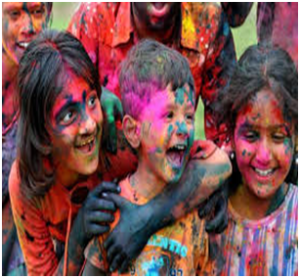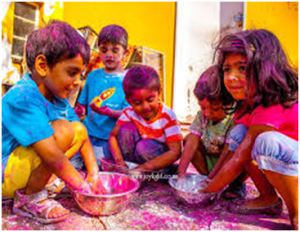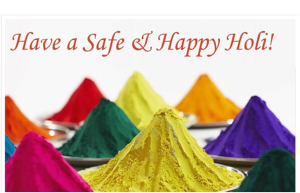 How to play a safe Holi – Ms. Kaberi Sinha